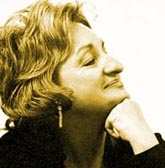 Betty Friedan, author of
The Feminine Mystique
and often credited with the launch of the second wave of feminism*,
died today of congestive heart failure.
It was her 85th birthday.
A Smith(!) alum of the class of 1942, the premise of
The Feminine Mystique
actually grew out of a 15-year reunion at Smith, and was published in 1963. She also co-founded the National Organization for Women, and was its first president in the late '60s. She was also a founder of the pre-cursor to NARAL, the National Conference for the Repeal of Abortion Laws, as well as a founder of the National Women's Political Caucus.
As
artemisia at mediagirl
put it:
She may not have been able to lead us all the way home, or perhaps even envision our ultimate destination, but she was an amazing force in getting this wave of the march started.
Friedan's form of feminism was no doubt problematic, but for today, I'll leave those problems aside. No amount of problematizing her feminism can negate her incredible influence.
---------------------
*While I don't agree that she was
the
catalyst for the start of the second wave, she was still undeniably
a
catalyst, and for that, she deserves credit.