The irony of the day this happened...Alito gets confirmed, Shrub Boy gives his "State of the Union" speech....*sigh*
Coretta Scott King died this morning.
A danger with this, though, is to see her only in light of her deceased husband, Martin Luther King, Jr. Of course, he was an amazing man, but that just served as her jumping point to enter the world of civil liberties, basic human rights, social justice, and peace.
She was an irreplaceable activist in her own right.
She's spoken out on behalf of: "racial and economic justice, women's and children's rights, gay and lesbian dignity, religious freedom, the needs of the poor and homeless, full-employment, health care, educational opportunities, nuclear disarmament and ecological sanity."
Yes, gay and lesbian dignity.
Unlike her daughter Bernice, who pulls the "I'm too Christian to believe in equal rights for queers" card, Coretta Scott King actually believed that any discrimination, no matter who it was directed at, was bad.
Not such a radical idea, but still embraced by far too few.
As Pam at Pandagon
described her
, a "towering figure" is now gone.
**
A bio of Coretta Scott King
via the King Center.
**
Remarks made by Coretta Scott King at the 13th annual Creating Change conference
organized by the National Gay & Lesbian Task Force.
"I appeal to everyone who believes in Martin Luther King Jr.'s dream to make room at the table of brotherhood and sisterhood for lesbian and gay people."
More photos of this amazing woman below the flip.
Coretta Scott King at a labor picket line
via wikipedia
2005 Bill of Rights dinner, ACLU Georgia
via comcast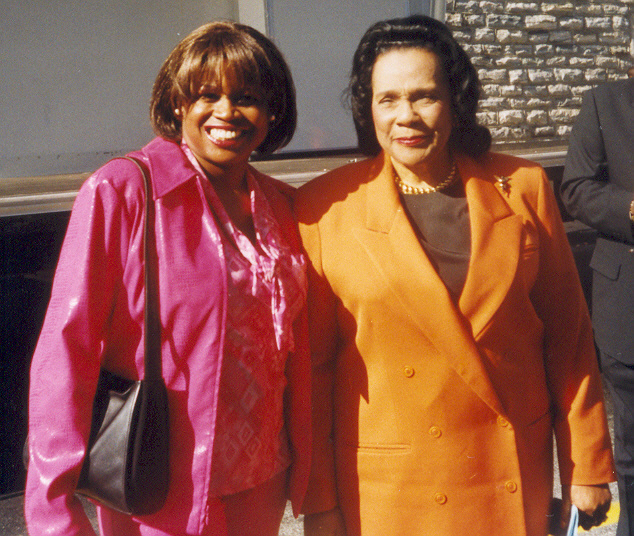 Jackie Smith and Coretta Scott King, at a street naming ceremony in Atlanta
via stanford.edu
with her husband behind her....
And finally.....
Pretty much the Most Adorable Picture Ever